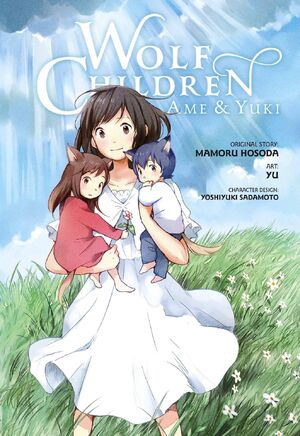 When the movie Wolf Children was released, I remember being really excited to see it. I got to watch it, and I liked it...but it kind of gave me some uncomfortable feelings and reminded me of all the times I tried to tell my classmates about anime and they wound up making fun of me about it. So I never really touched it ever again. I got the DVD, but I never watched the English dub. Then, several years later, this article popped up on ANN, saying the artist who drew the Wolf Children manga, whose name is just Yu, died from an unspecified illness. I have to admit, some of the things her husband said left me misty-eyed. Plus, it didn't help that whenever I would go into my local Barnes and Noble, I would always, ALWAYS see that huge, hulking manga sitting on the shelf, like it was begging me to buy it. Suffice to say, I knew I had to return to Wolf Children sometime, so my mom bought me the manga for Christmas. I read it, and...I didn't get those uncomfortable feelings anymore. Now I just need to watch the movie in English.

Also, rest in peace, Yu.

Moment #2: Getting past my personal grievances with Wolf Children.